Since 1983 Tiger-Rock Martial Arts provides classes for the whole family. When you think of martial arts, you might think of classes for kids. Tiger-Rock provides classes for the entire family. There are classes for pre-school children  to adult. This is a place where the whole family can improve their mental and physical well being. With that said, life comes with stress.  Above all, Tiger-Rock Martial Arts are the place for you and your family to feel centered and in control.
Adult Martial Arts Karate lessons near me Kingwood TX
Transform yourself in ways you could never imagine. Embrace our incredible training system for adults that combines martial arts and physical fitness. Allow yourself to begin a life journey that is full of self-improvement, strength, and confidence. Our core adult, martial arts program takes the Korean tradition of taekwondo with the latest physical fitness. This combination creates a signature workout that helps you become more fit and focused!
Tiger-Rock Karate lessons near me Kingwood TX features striking, kicking, and blocking drills and the form and strengthening exercises. The combination of drills and exercises can help you build physical strength, increase mental awareness and increase your self-esteem.
Key Training
Striking and kicking drills are key elements of our adult martial arts lessons. These drills help build stamina. These active movements help enhance your coordination and improves your motor skills.
It would help if you thought about possible threats that might come your way, which is why Tiger-Rock provides real-world self-defense training. To defend yourself, you will be taught striking, kicking, and blocking techniques, among other forms, to combat possible threats.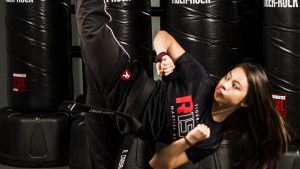 Karate Schools in Kingwood TX
Discipline & Confidence
Karate lessons near me in Kingwood TX will instill self-discipline and increase self-confidence. Your lifestyle will begin to change as you advance in your program. Your focus will improve, and you will be able to complete tasks and accomplish goals.

Karate lessons near me Kingwood TX for Teens
The junior and high school years are a formative point in a student's life. As a result, self-worth begins to take shape. Students are always trying to fit in, and searching for the right fit can be exhausting. While this might be an exciting experience, it is often challenging for these young adults.
Tiger-Rock Martial Arts provides a positive environment where everyone belongs; therefore, when teens join a group of like-minded peers, they relax and experience lifestyle change. Students will experience growth mentally, emotionally and socially in our program. A student's experience at Tiger-Rock has enhanced due to the many exciting training, competitive, and leadership opportunities.

The Tiger-Rock Advantage
Students prefer our martial arts program because we provide action-packed fun classes for everyone. This is a positive social and inclusive environment likewise;, there are endless leadership opportunities to shape tomorrow's leaders. Our classes come with advanced training and competitive opportunities. As a result of these classes, teens will begin to see a positive change in their physical and mental well being. This opportunity also provides students with a positive challenge, all in the name of fun.
Karate lessons near me Kingwood TX featuring Anti-Bullying
Bullying has been front headlines for the past two decades. As a result, school shootings have been in the news around the country. Tiger-Rock Martial Arts takes the opportunity to transform the mind of these young adults with anti-bullying education. This is an extensive training program that includes self-defense, which will result in the teens gaining the ability to protect themselves safely and effectively.
Boosting Confidence
Self-image is everything as a teenager. At Tiger-Rock Karate lessons near me Kingwood, TX we understand how important it is for teens to have a positive self-assessment. For many teens, self-image and confidence shape their physical, mental, and emotional well-being. Tiger-Rock aims to teach with positive reinforcement while giving every teen student the tools they need to succeed in the dojo and everyday life.
Leadership Opportunities
Life lessons are valuable, and that is why we pride ourselves here at Tiger-Rock on teaching teens some of life's most important lessons. Teens need to cultivate those life lessons positively to make this world a better place. We extensively train our students in the values of good citizenship and strong leadership. In fact, we offer a Leadership Program whenever a teen student achieves a certain rank. This is more than a martial arts system; it becomes a way of life.
Advancement & Competition
Students are given opportunities to advance in belt rank. Tiger-Rock Exams allow students to apply what they have learned on the mat. Tiger-Rock Karate lessons near me Kingwood TX participate in our annual fall, spring, and summer tournaments. These tournaments are for fun, and much of our training is geared towards preparing students for belt testing and competitive events.
Fun for the Whole Family
Karate lessons near me Kingwood TX at Tiger-Rock Kingwood is fun for the entire family. This is one event that every family member can participate in. There are classes for every person, no matter where they are in their physical and mental well being. All that is required is a desire to accomplish goals and make lifestyle changes that will improve overall health and well being. Tiger-Rock offers convenient evening classes for the entire family. The whole family will come to Tiger-Rock, but each member will have their own personal experience. This is a personal journey for each individual, no matter the age.
Call Tiger-Rock Today
If you want to create a weekly family outing, then Tiger-Rock is the place to be. Being able to design your own personal journey, set goals, and then accomplish them one by one is an incredible reward in itself. This state of the art dojo and certified personal trainers is just what you need or to have a family-friendly place that everyone can go to as many days a week as you want. On a family vacation? No problem, all members are allowed to use any Tiger-Rock facility for their workouts. Call Tiger-Rock today at 281-358-0018 or see them at 1313 Kingwood Dr. in Kingwood 77339.
Kingwood TX Info For You
Kingwood is a great place to be if you're trying to raise your family in the right places. You probably care about the resources your kids and loved ones have. Make the most out of your setup by moving to Kingwood. Our team is ready to welcome you into our community with open arms and a vast amount of resources.