Karate Katy Texas
Do you want to start a training program but don't know what the first step is? Choosing the perfect Karate Katy Texas training facility can be frustrating. Do you want a personalized training program that will help advance your fitness? Tiger-Rock Martial Arts in Katy is the ideal environment for you consequently, if you are looking for a place that the whole family can train Tiger-Rock is the answer.
Fuel for Focusing
Whether you are an adult or a child, focus is everything and for that reason, Tiger-Rock has programs that strengthen your focus. In a society where medication is dished out like candy maybe it is time to try a natural remedy. Karate Katy Texas at Tiger-Rock can help you with your concentration and maintaining your focus. First of all, seeing is believing so that is why we offer an introductory course. This will not only introduce you to the world of martial arts, this will give our professional a chance to evaluate you.
Building a Personalized Program
Tiger-Rock employs certified instructors that can build a personalized program just for you. No two people are the same which is why your program will include your goals and a strategy to accomplish them. Our trainers want you to lean on them so they can adjust your program to minimize your struggles. Who doesn't want a program that strengthens their physical and mental well-being? That is what sets Tiger-Rock aside from other training facilities in the community.
Quality Karate Katy Tx Classes
Our brand began in the early 1980's and we are as committed to your goals as you are. You are a direct result of our instruction so, Tiger-Rock has a unique training program that will set you up for success. Martial arts requires discipline and a thirst for knowledge and as a result, will teach you the techniques to accomplish your goals. Striking, kicking and physical exercise is just a portion of what Tiger-Rock offers rather, we as a training facility are here to boost you physically and mentally.
The Mental Game
Setting resolutions has never been the problem for most of us however, it is following through and the sense of accomplishment we lack. Because martial arts is mental you might feel overwhelmed, maybe defeated but, our certified trainers are here to navigate your training when and if you hit that brick wall. The brain is just another muscle like our biceps and triceps therefore, you constantly have to train your brain and push it past its limits. You will be surprised once you commit to life change, how much change you can handle.
Embracing Martial Arts
To earn it you must work for it therefore, results don't just happen overnight. Tiger-Rock keeps the environment steady and calm so each student will get the most out of their program. Once you experience martial arts training you can share what you have learned with others hence, you can demonstrate your skills and growth. The physical changes and the mental strength that stem from this program will not go unnoticed by those around you.
Lifestyle Changes
It has been noted that the average attention span is twenty seconds. That statistic has not changed despite the jump in technology. Today technology allows us to be accessible at all costs. Did it ever occur to you that your brain might need a break from technology? How can you dedicate your undivided attention to improving your physical and mental well being if you are distracted? Tiger-Rock Martial Arts Karate Katy Texas will design a program that includes discipline.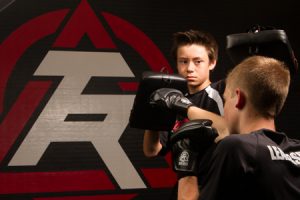 The Ultimate Discipline
Tiger-Rock Martial Arts is committed to each student and as a result, our professionals design a program which sets you up for success. What do you think of when you hear the word discipline? Most people think of the spankings they got as children. Martial arts has an entirely different form of discipline. Discipline makes up part of the structure that Karate Katy Tx classes teach. Self-discipline is a challenge for most of us which is why it is so important that you mentally commit to the life changes as a result of training.
Anti-Bullying Education & Self-Defense
School shootings are on the rise however, most suspects have one thing in common. These shooters were either bullies themselves or they were victims of bullying. We here at Tiger-Rock feel that Anti-Bullying education is a top priority. Consequently, Tiger-Rock Martial Arts is a facility where you can work your frustrations out yet learn new techniques to tolerate the bullying epidemic this country faces.
Self-defense is also vital to the success of each student. No one is exempt from threats therefore, Tiger-Rock Karate Katy Tx has created specific classes just for self-defense. Your age, gender and social class does not impact the number of threats that could arise. Anyone is at risk for such a threat.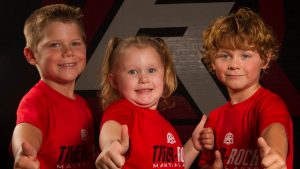 Why Tiger-Rock
You have taken the first step which is to make a change in your life. The next step is the hardest because you must decide which training facility is best for you. There are endless choices available to consumers yet you have an agenda and won't settle for anything but the best. Why should Tiger-Rock Martial Arts be the answer?
In order to reach your goal you will need a team of professionals guiding you every step of the way. Consequently, this is not just a monetary investment, this is a personal investment and above all, you have expectations.
The Benefits of Tiger-Rock
Karate Katy Tx has classes for the entire family from ages 4-adult. This is something that the entire family can do together. Never miss another family night again. Set goals together and accomplish them together! All you need to do is hop on over to Tiger-Rock Katy, take a tour and then have one of our professionals get you and your family started on a personalized plan.  You won't regret strengthening your physical and mental health together as a family! Stop by one of our Katy locations: 625 S. Mason Katy, Tx 77450 281-890-9300 or 5757 Katy-Gaston Rd. Katy, Tx 77494 281-202-3713. You won't regret it!
Info From the City of Katy, Texas
Katy, Texas is a part of the Houston-Sugar Land-The Woodlands metropolitan area.

Are you interested in living in a great place in Houston? If you don't like the downtown residential scene, this is a great suburb for you to retreat to.

Katy has great shopping, dining, and attractions for all including the Rice Festival every year.

Are you a fan of an affordable real estate? If you're trying to find the right houses and apartments you can afford, count on Katy. We have mortgage and rent that really makes sense for your karate setups.