Tiger-Rock Martial Arts is offering Nottingham Karate near me. Our Karate school has been around Katy, teaching people of all ages for over 20 years. In fact, Master Pollard and Master Reade, our chief instructors, each have over 30 years under their black belts. But all our instructors are thrilled to pass down what martial arts expertise they have in Nottingham Country.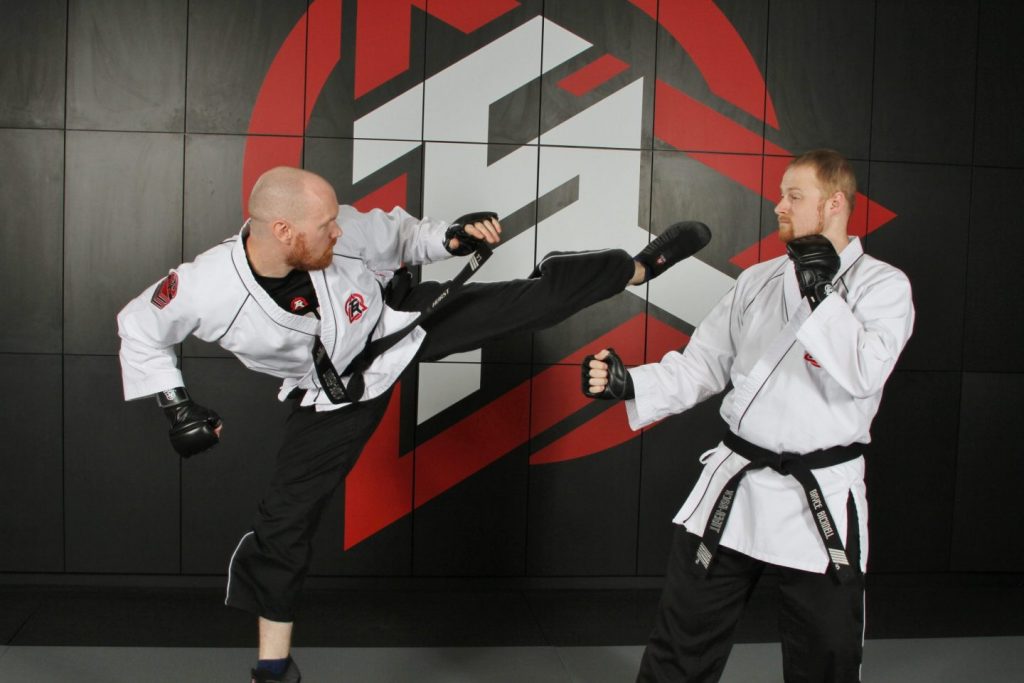 About TaeKwonDo
TaeKwonDo is a relatively new Korean martial art. It means "the Way (Do) of the Foot (Tae) and the Fist (Kwon)." After the Japanese occupation of Korea came to an end, traditional martial arts dojos were able to practice in the open again. A mixture of these, mainly the Chinese and Korean arts of Taekkyon, Subak, Gwonbeop, and Okinawan Karate, formed TaeKwonDo. The Way emphasizes striking, head-height, side, and spinning kicks.
But TaeKwonDo is not only a martial art. As of 2000, TaeKwonDo became an Olympic Sport. Besides that, governing bodies such as the World TaeKwonDo Federation and the International TaeKwon-Do Federation have been holding major tournaments worldwide. Here at Tiger-Rock Martial Arts, we hold regional, state, and national competitions, in the Fall, Spring, and Summer.
About Karate
In contrast, Karate is a far more ancient art than TaeKwonDo. It comes from the Ryukyu Kingdom, now known as the Okinawa Prefecture in Japan. It takes most of its influence from Fujian White Crane style Kung Fu. Karate emphasizes open-handed strikes, such as knife-hands, punching, kicking, and elbow and knee strikes.
After Japan annexed Okinawa, it began to become popular with clubs in universities there. Then, it spread to schools on the mainland. During the US occupation of Okinawa preceding the War, servicemen picked up Karate and brought it home. In no time at all, Karate schools were opening all over the globe. And, now, we have Tiger-Rock Martial Arts here in Katy and Nottingham Karate near me.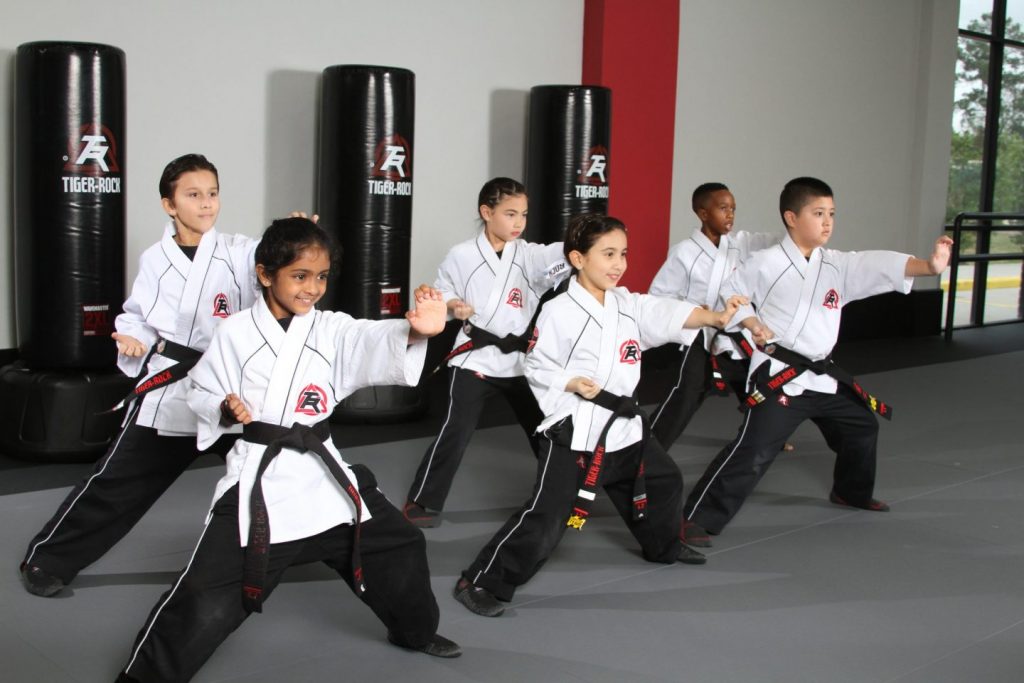 Kids Karate Lessons
Our instructors teach TaeKwonDo and Karate to students of all ages. We design all our classes for each group.
For children from ages 4 to 6, we recommend our Cub Program. In their Karate lessons, our Tiger-Cubs work on coordination, balance, and symmetrical movements. Plus, they learn social skills and how to treat others with respect. Here, they work on channeling all their extra energy. It will also be some of the most fun they have all week.
In our Junior Program, our 6 to 10-year-old students get to move on to more martial arts. Most everyone will agree that this is the best age to start a martial art. At this point, they can begin mastering the basics and feel accomplished in it. Also, everyone at this age loves Karate. In these classes, we work on stances, forms, speed and agility drills, striking, kicking, and sparring.
Teen and Adult Karate Classes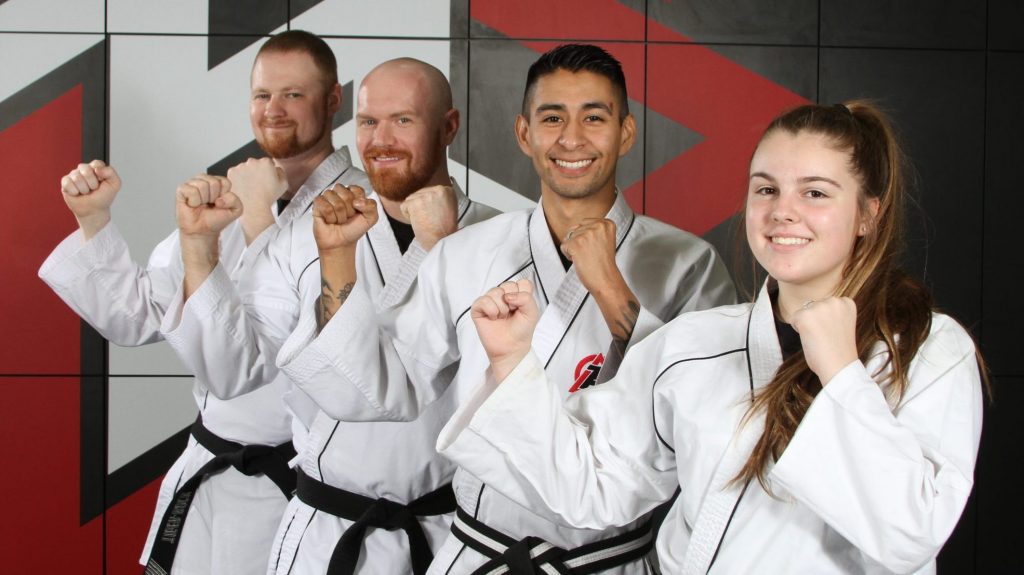 We think our Nottingham Karate near me makes the perfect after-school extra-curricular.  Teens from 11 to 15 years old learn good citizenship, leadership, cooperation, ambition, and discipline. These are essential traits to build now and carry with you throughout life into adulthood.
Anyone that is 16 and older should enroll in our adult classes. Whatever goals you have, our rigorous training provides the means to reach it. Whether you want to work your way up and earn your black belt, compete in tournaments, or stay in top physical shape, we can help.
The Benefits of Practicing Karate
Practicing a martial art like TaeKwonDo or Karate improves all aspects of a person. The benefits you experience might be obvious, like getting more physically fit or more subtle, like having better focus. Even if you see the discipline you will develop as a happy accident, know that, for us, it is the primary goal of any martial art.
Building Character
Our five key tenets at Tiger-Rock are humility, honor, perseverance, loyalty, and respect. It is our goal for all our students to go out into the world and exemplify these traits. Practicing TaeKwonDo demands and requires these traits, along with discipline and integrity.
You must keep yourself accountable. Cheating will not get the results you want, or any at all.
Integrity also comes from TaeKwonDo as a technique for self-defense. Through self-restraint, it subdues aggression in an attacker and one's self. It is not used for violence. TaeKwonDo asks that we always act in upright and moral ways, even when defending ourselves.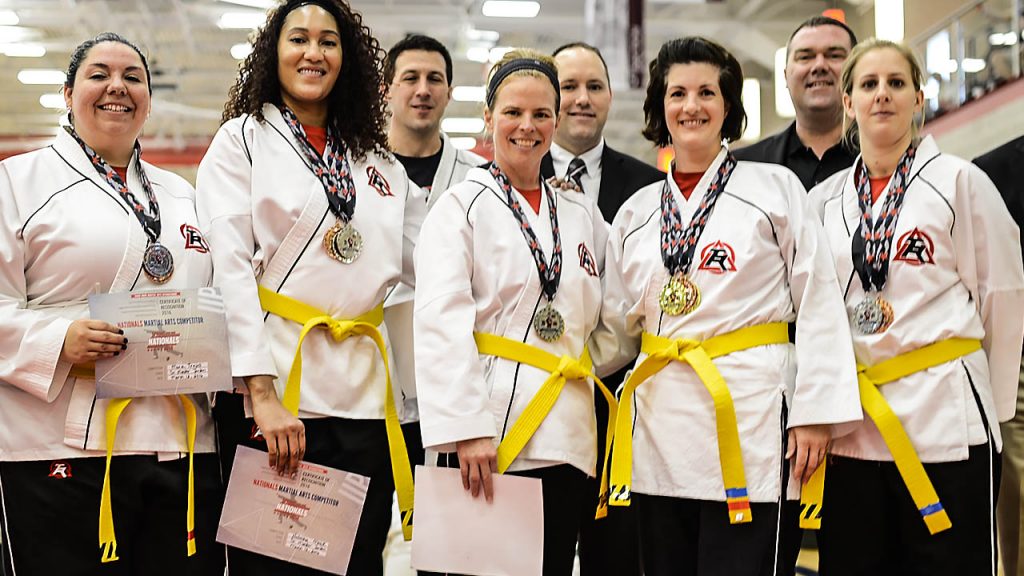 Physical Fitness
Our Karate lessons cover all aspects of physical fitness, from strength to body composition. The stretching we start with and high kicks improve flexibility. Warm-ups work our cardiovascular health. The calisthenics, core training, and conditioning we do build our muscular strength and endurance. Through the repetitive practice of our drills, we create muscle memory. Every class is a full-body workout.
Competition and Cooperation
Now, since the Tokyo 2020 Olympic Games, Karate has joined the roster. Additionally, the World Karate Federation has held major tournaments for a long time now. Our Karate classes are great prep if you wish to compete in a tournament.
In-class Karate provides opportunities for our students to develop camaraderie as well. They give each other a competitive spirit, practicing alongside one another. And they work together while setting each other's drills up.
Nottingham Karate Near Me


Tiger-Rock Martial Arts' Karate school is south of I-10 on Mason Road. Here, students from all over Katy, including Nottingham, Mason Park, Kelliwood, and Green Trails, train with us. Additionally, at our South Katy school, we serve the Cinco Ranch, Seven Meadows, Bella Terra, and Cross Creek Ranch areas. We also have locations all over the Greater Houston area and the state. You can contact us to schedule a free consultation and tour of any of our martial arts schools.
If you see what Karate can offer you, then get in touch with us right away. Call us at (281) 829-3900 or email Master Pollard at tkdstaff@katytkd.com to start with our Nottingham Karate near me.
Katy TX Fun Facts