Adult Martial Arts Training
Fitness and Martial Arts
---
Those over the age of 16 can enroll in our adult martial arts program. Taekwondo is the core of what Tiger-Rock Martial Art teaches. Of course, it is not the only thing we train students on. We have integrated Taekwondo, martial arts, and modern fitness methods. Martial arts are very intense making them great outlets for exercise. In fact, we believe martial arts are a better gym alternative. You will exercise every portion of your body while enrolled in a Tiger-Rock Martial Arts program. Plus, you'll pick up mental and emotional skills along the way.
Improve Strength, Flexibility, and Agility
Martial arts are arguably better than the standard gym workout. Your body will exert a lot of energy and experience many benefits during a Tiger-Rock Martial Arts program. Since we combine martial arts with modern fitness routines, you get more than enough of a workout while training with us. Push-ups and sit-ups are not the only exercises you will be performing. You are also conditioned through kicking and striking drills. Additionally, you'll have sparring sessions with other students. The various drills and exercises you perform during the program will increase your flexibility, muscle tone, agility, coordination, and cardiovascular health.
Better Focus, Less Stress, and Improve Confidence
The physical benefits you will experience from martial arts training is substantial. However, the mental and emotional skills you'll gain last significantly longer. Martial arts training requires a fair amount of concentration and determination. Students are continuously asked to perform instructions and achieve goals. After just a few weeks of training, many students report a greater amount of focus and more confidence. Furthermore, stress is reduced through many outlets martial arts provides.
Prepare for the Unexpected
The physical, mental, and emotional advancements you will make at Tiger-Rock Martial Arts prepare you for the unexpected. With this in mind, our instructors train you on how to defend yourself and reduce aggression in others. Self-defense is an extremely important and applicable skill. This type of training further prepares you for the unexpected. We teach our students only to use their martial arts skills to defend themselves or others. Self-defense training doubles down on that rule.
Here's what you can expect
After You Start Taking Our
McKinney Martial Arts & Taekwondo Training Program For Adults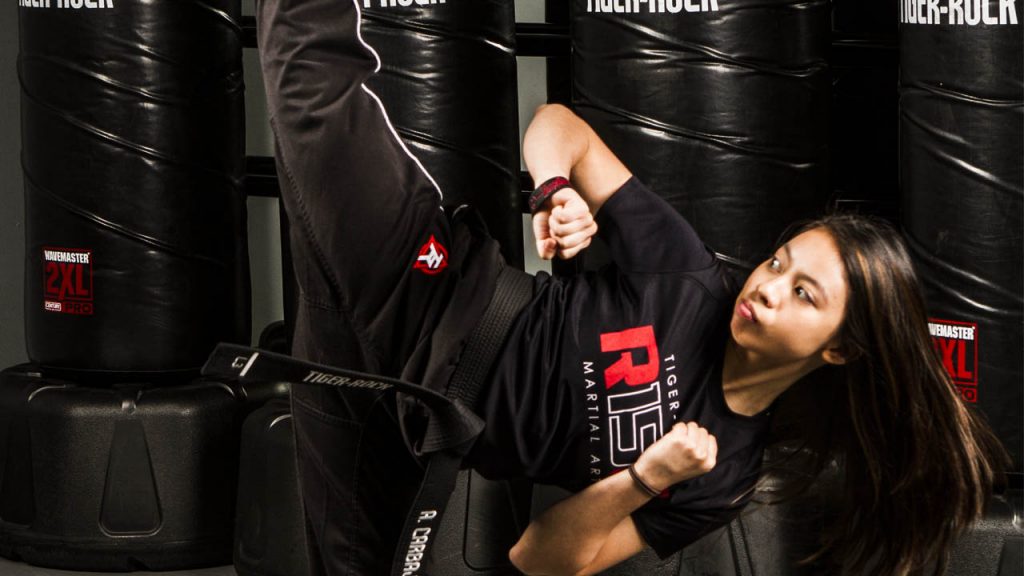 You're going to have more confidence…
When you take our adult martial arts class, we'll ask you to take on new challenges. And with excellent support from our Instructor Team, you'll meet each challenge. Most importantly, you're going to exceed the expectations even set for yourself. This builds self-confidence and self-esteem.
You're going to have lots of fun…
To sum up martial arts in one word—FUN. A lot of our adult martial arts students love coming to Tiger-Rock after work for their martial arts lesson. The drills… the energy… the environment… As you build strength and learn new and exciting things, you're going to look forward to coming to the academy throughout the week.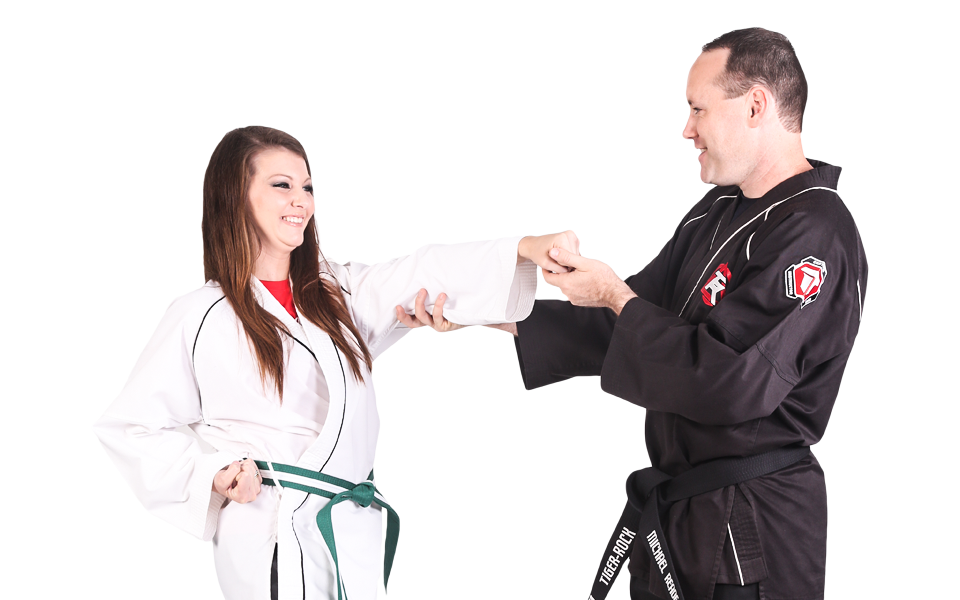 You're going to reduce stress…
We live hectic, stressful lives. Sometimes, even the simplest things may get to us because we're so busy and we're so on-the-go. But martial arts is more about doing kicks and strikes. It's also about controlling your mind and your emotions. Taekwondo is a great stress relief. Many of our students report that they have seen a reduction in stress since the start of their training. They're not letting the little things get to them. As a result, they are keeping their cool and approaching the day with a clearer mindset and much more focus.
Frequently asked questions
about our adult martial arts class
Is it safe?
At Tiger-Rock McKinney, your neighborhood martial arts academy, the safety of our members is of the highest priority. While martial arts has its risks just like any other physical activity, we structure our lessons and drills with your safety in mind.
Will I get hurt?
Again, martial arts is a physically demanding activity. Just like baseball, basketball, or any other physical and/or athletic activity, there is a chance you might get hurt. But, we make sure to demonstrate the best way to perform each of the techniques you'll learn. Plus, we always encourage students to learn at their own pace—no need to rush yourself! And finally, our entire Certified Instructor staff is certified to administer First Aid if necessary.
Are there any long term contracts?
Tiger-Rock Martial Arts of McKinney believes in creating a members-first atmosphere. Therefore, we do not lock our members into long term contracts unlike some of our local competitors or even the gym nearby does. We believe in giving our members the space they need to make the most out of their Tiger-Rock membership.
How much are classes?
Pricing information is available directly from our staff. However, we have an awesome web special that you can take advantage of. Click the red button below to learn more.