This amazing martial arts class for adults in McKinney TX will change your life…
Are you interested in a journey that will help you get stronger, safer, and more fit?
Discover the strength you've always had inside you?
Then click below to sign up for Tiger-Rock's martial arts class for adults in McKinney TX!
Get in great shape, learn life-saving self-defense, become mentally sharper by enrolling in our McKinney Martial Arts & Taekwondo Training Program For Adults
Tiger-Rock's adult martial arts and Taekwondo training program in McKinney combines Korean traditions such as taekwondo with the latest developments in physical fitness. As a result, you get a great total body workout that will get you fit, keep you safe, and make you sharp. To elaborate, martial arts provides benefits such as: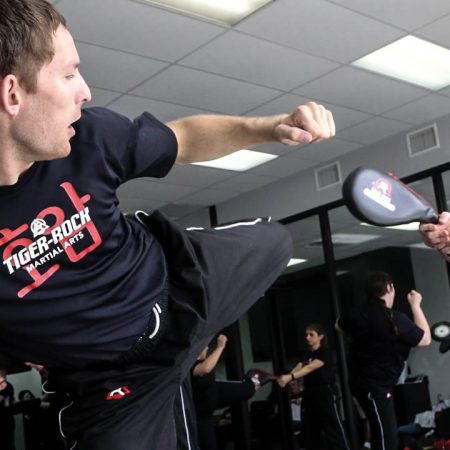 Getting stronger
As shown above, McKinney martial arts and Taekwondo training program for adults is an incredible total body workout. You'll learn how to use your entire body in our kicking, striking, and agility drills. Plus, you'll improve your flexibility, range of motion, and physical endurance. Altogether, you'll strengthen your core muscles and improve your physique as you'll tone your arms and legs!
Getting Healthier
Martial arts is a very physically demanding activity. It requires quite a bit of energy, many times requiring changes in your nutrition. Often, Tiger-Rock martial artists start living a healthier lifestyle after they begin training. After taking an adult martial arts class, you'll start noticing changes over time such as an improvement in your cardiovascular health and weight loss. Overall, you will start living a healthier lifestyle.
Getting faster
A lot of drills in martial arts are repetitive. This is because much of our training is about helping you build strength in your legs and arms. However, it also enhances your ability to focus and improves your reaction times. As a result, you will become physically and mentally faster. You'll notice an upswing in your physical keenness and mental sharpness.
Here's what you can expect after you start taking our McKinney Martial Arts & Taekwondo Training Program For Adults
You're going to have more confidence…
When you take our adult martial arts class, we'll ask you to take on new challenges. And with excellent support from our Instructor Team, you'll meet each challenge. Most importantly, you're going to exceed the expectations even set for yourself. This builds self-confidence and self-esteem.
You're going to have lots of fun…
To sum up martial arts in one word—FUN. A lot of our adult martial arts students love coming to Tiger-Rock after work for their martial arts lesson. The drills… the energy… the environment… As you build strength and learn new and exciting things, you're going to look forward to coming to the academy throughout the week.
You're going to reduce stress…
We live hectic, stressful lives. Sometimes, even the simplest things may get to us because we're so busy and we're so on-the-go. But martial arts is more about doing kicks and strikes. It's also about controlling your mind and your emotions. Taekwondo is a great stress relief. Many of our students report that they have seen a reduction in stress since the start of their training. They're not letting the little things get to them. As a result, they are keeping their cool and approaching the day with a clearer mindset and much more focus.
Frequently asked questions about our adult martial arts class
Is it safe?
At Tiger-Rock McKinney, your neighborhood martial arts academy, the safety of our members is of the highest priority. While martial arts has its risks just like any other physical activity, we structure our lessons and drills with your safety in mind.
Will I get hurt?
Again, martial arts is a physically demanding activity. Just like baseball, basketball, or any other physical and/or athletic activity, there is a chance you might get hurt. But, we make sure to demonstrate the best way to perform each of the techniques you'll learn. Plus, we always encourage students to learn at their own pace—no need to rush yourself! And finally, our entire Certified Instructor staff is certified to administer First Aid if necessary.
Are there any long term contracts?
Tiger-Rock Martial Arts of McKinney believes in creating a members-first atmosphere. Therefore, we do not lock our members into long term contracts unlike some of our local competitors or even the gym nearby does. We believe in giving our members the space they need to make the most out of their Tiger-Rock membership.
How much are classes?
Pricing information is available directly from our staff. However, we have an awesome web special that you can take advantage of. Click the red button below to learn more.