Tiger-Rock Martial Arts teaches Collin County TX Taekwondo classes to students of all ages. We offer the highest-quality lessons with our Masters Thibodeaux and Vidal.
Each is a certified instructor, and both have 4th dan black belts. Our martial arts lessons promote growth in all ways in our students. It teaches discipline and makes you healthy. And you can gain the knowledge of how to defend yourself and the confidence to tackle life.
The History of Taekwondo
Tiger-Rock's martial arts are mostly based on the Korean practice of Tae Kwon Do. It is a relatively new style that came out of post-War Korea.
The word roughly translates to "the Way (Do) of the Foot (Tae) and the Fist (Kwon)." It focuses on head-height kicks, spinning kicks, sidekicks, and strikes.
TaeKwonDo takes many direct influences from older martial arts, including Taekkyon, Subak, Gwonbeop, and Okinawan Karate.
During the Japanese occupation of Korea in the War, dojos had to go underground. Afterward, people could practice old Korean and Chinese styles in the open again, and what we came to know as Collin County TX Taekwondo came about.
It is not only a way to defend oneself, though. Taekwondo is also a competitive sport. As of 2000, it is a part of the Olympics. And it is the national sport of both Koreas.
Seventy million athletes participate worldwide. And South Korea set up a capital, Kukkiwon, in Seoul for the World Taekwondo Federation. The WTF and International Taekwondo Federation put together major tournaments each.
We designed different classes for our different age groups. Tiger-Rock instructors know how important it is for their students to be learning next to their peers. By doing so, we ensure they are not bored, are engaged, challenged, and keep up with the rest of their class. And we teach them what is most pertinent to them right now.
Tiger-Cubs
Our younger students, from four to six years old, are our Tiger-Cubs. In this class, we teach age-appropriate skills for early childhood development, like coordination, balance, and symmetrical movements. Through the repetition of our exercises, they get down their forms and fine motor skills.
In addition, we get to teach them valuable lessons. Tiger-Cubs learn to respect their seniors and pay attention. Plus, they will get more time to socialize with their friends and learn good sportsmanship.
And martial arts classes give them a great and healthy opportunity to spend that excess energy after school. These 30-minute lessons can be some of the most fun they have all week.

Juniors
With our students are six to eleven years old, they train in our Juniors classes. This age is probably the best time for a kid to join Collin County TX Taekwondo classes.
Kids this age are most interested in martial arts and sports. Also, they can understand and learn kicking and striking techniques, forms, and sparring. If moving on from a Tiger-Cubs class, they can improve upon where they left off.
We are also able to bring up more serious topics at this age. Our lessons include anti-bullying education. We teach awareness, communication, self-defense. When leaving, our students are better prepared to handle dangerous scenarios.
Teens
We build our teen classes for students from ages twelve to fifteen years old. Here, we teach advanced techniques. They can begin their journey into mastery of the art. And they can work under a greater level of autonomy.
Taekwondo works as a great extracurricular activity, as much of a workout as any sport. And it teaches leadership skills and good citizenship. Together, our teens work together to get physically fit and become the best they can be.
In our adult classes, we combine the Korean art of Taekwondo with the latest developments in fitness. These evening classes function as an excellent core workout. It is calorie-burning and heart-pounding. The emphasis on speed and agility in Collin County TX Taekwondo kicking and striking drills teaches you how to use your whole body in tandem.
The Many Benefits of Taekwondo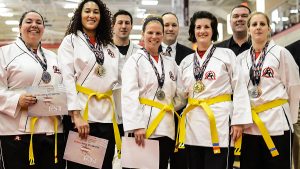 Taekwondo makes up a full-body workout. And it covers all components of physical fitness: flexibility, body composition, cardio health, endurance, and muscular strength.
Our warm-ups and stretches flex your limb's range of motion. And our drills push your endurance and cardio to the limit. Our strength and conditioning routine makes sure your muscles are in peak physical shape.
It hones the mind as well. You will find your focus, in and out of the dojo, sharpened. Working out like this improves sleep and reduces stress. Practicing Taekwondo builds a greater mental fortitude.
Cooperation and Competition
Like we said before, Taekwondo is also a sport. And we compete here as well. Tiger-Rock puts on three tournaments a year: regional, state, and national in the fall, summer, and spring.
In our classes too, our students learn the spirit of competition and cooperation. They spar with one another and set up each other's drills. Each day, they challenge each other to be better than the last.
Self-Defense
But the self-defense aspect of Taekwondo should not be left out. Bullying, after all, can be a constant source of anxiety and trauma for the victim. It chips away at a person's self-esteem, confidence, and sense of worth. So, the issue should be taken seriously.
We teach avoidance as the first step in any bullying scenario. Taekwondo is a practice of self-discipline and self-defense first and foremost, meaning using self-restraint and nonviolence.
So we teach correct diction, stance, and tone that conveys confidence and helps deter any situation from escalating. But if our student finds themselves in a dangerous situation, they can better defend against a bully.

Collin County TX Taekwondo
As you can tell, anyone of any age can benefit from practicing martial arts. Plus, you have fun doing it.
If you can see how practicing Taekwondo provides your life with benefits from the top down, then contact us today. Call us at (214) 585-0555 or email us through david@trmamckinney.com for our Collin County TX Taekwondo.
Collin County Texas Fun Facts