Tiger-Rock Martial Arts are teaching Fairview TX Taekwondo to enthusiastic students in the area. Our Master Thibodeaux and Master Vidal have been teaching martial arts in McKinney, Texas, for over a decade. And all our instructors continue to pass down their lessons with enthusiasm.
Taekwondo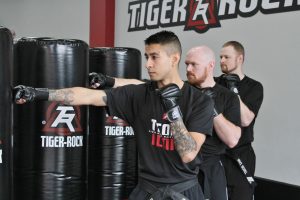 Tiger-Rock bases the martial arts we teach in Taekwondo. It is a relatively new Korean fighting style. Tae Kwon Do stands for "the Way (Do) of the Foot (Tae) and the Fist (Kwon)." Its spinning kicks, sidekicks, head-height kicks, and strikes distinguish it from other martial arts.
Taekwondo came out of post-War Korea. The Japanese occupation during the war forced martial art dojos to practice underground.
Many of the ones that would come to influence Taekwondo almost disappeared. After the war ended, old Korean and Chinese styles like Subak, Gwonbeop, and Taekkyon, and Okinawan Karate have practiced in the open again. Styles like these are blended by new practicing students and form what we see as TaeKwonDo today.
But Taekwondo is not only a means of self-defense or martial art. Now, it is also a competitive sport. In fact, as of 2000, it is a part of the Olympic games.
And it is the national sport of North and South Korea. Additionally, seventy million athletes participate worldwide.
The Olympic-level governing body is the World Taekwondo Federation. They had their headquarters, Kukkiwon, and the World Taekwondo Academy set up by Korea in Seoul. But both the WTF and International Taekwondo Federation put on their own global tournaments.
We designed three classes specific to each age range. Every student needs to learn next to their peers. This way, everyone is challenged, engaged, never bored, and can keep up. At the same time, we can teach them skills most pertinent to them right now.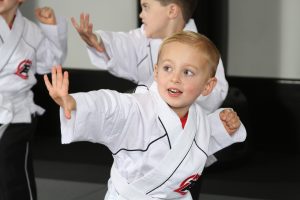 Tiger-Cubs
First off, our four to six-year-old students are our Tiger-Cubs. In their lessons, we teach physical workouts appropriate and necessary for early childhood development.
They will get down balance, coordination, and symmetric movements. By repetition, they will learn our forms and develop fine motor skills.
Furthermore, we get to teach valuable lessons for children at this age. Here, they will learn how to respect their seniors and pay attention.
And our classes give them more time to hang out with their friends and develop good sportsmanship skills. These 30-minute sessions can be some of the most fun they will have all week. They make a healthy avenue for all that excess energy leftover from school.
Juniors
On the other hand, our six to eleven-year-old children are our Juniors. This age is probably the best time to start practicing Taekwondo. This is the age when kids have the most interest in martial arts.
Besides, we can now start teaching them more advanced techniques. We do striking, kicking, and agility drills in these classes. And if your kid started as a Tiger-Cub, we can continue with their training from where they left off.
Plus, at this point, we can bring up more serious topics. In these classes, we can bring up bullying and our anti-bullying education. We teach valuable lessons about avoidance and stranger awareness. Our goal is to leave your kids better equipped to face the outside world.
Teens
At twelve, though, and on to fifteen, we train our students with a greater level of autonomy. At this point, they can handle more defensive and advanced techniques, taking moving up in the ranks more seriously.
Taekwondo works up as much sweat as any other after-school sport. It makes for a great extracurricular. In class, our students develop leadership skills and principles of good citizenship. Together, at our Fairview TX Taekwondo lessons, our teenagers motivate each other to be better than they were before.
We also have evening classes for everyone sixteen and up. Our martial arts consist of a combination of traditional Taekwondo and the latest developments in fitness. It makes for a calorie-burning and heart-pounding, after-work workout. The speed and agility that Taekwondo emphasizes have your whole body moving in tandem.
The Many Benefits Behind Taekwondo
The most apparent advantage of taking up Fairview TX Taekwondo is what it does for your physical health. It truly takes care of all components of your physical fitness: flexibility, endurance, muscular strength, cardio, and body composition.
Our drills push your endurance and cardio limits. And the stretches we do before each class flex your limbs' range of motion. Then, our strength and conditioning build up your muscular physique.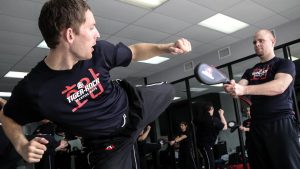 Further, though, it also strengthens your mental health. It sharpens the mind. You will find that you have an easier time focusing after a while, in and out of the dojo.
By doing this workout, your sleep will improve, and you will see a reduction in your stress. Our lessons promise an improvement in overall mental fortitude.
Competition and Cooperation
As we said before, martial arts are not only a discipline but also a sport. And we, with our Fairview TX Taekwondo, participate in tournaments as well. We hold three annual competitions at the regional, state, and national levels in the fall, spring, and summer.
However, we also see our students competing and cooperating in our martial arts classes. They spar against one another for practice, and they set up each other's drills. By watching one another, they compete and bring each other up to the top of their potential.
Self-Defense
Of course, the self-defense aspect of Taekwondo remains relevant. We combine Taekwondo moves with those of other styles to form applicable real-world techniques. Our teaching prepares you and proves useful in a bind.
Bullying is a serious issue that can cause severe trauma or be a source of anxiety for the victim. So it is crucial to cover it. We teach avoidance as our first step because Taekwondo is an art of self-restraint and non-violence first.
Through tone, diction, and stance that conveys confidence, our students can avoid escalating a dangerous situation. But if they find themselves in an inevitable altercation, they have the tools to defend themselves with.

Fairview TX Taekwondo
As you can see, Taekwondo can do a lot for a person's life. And we bring you the best classes with our certified instructors. We do everything to concentrate on and ensure your progress.
If you see how Tiger-Rock Martial Arts' martial arts lessons can benefit you or your family, then contact us today. For our Fairview TX Taekwondo, call us at (214) 585-0555 or email us through david@trmamckinney.com.
Fairview Texas Fun Facts
We are adjacent to the Heard Wildlife Sanctuary.
Our motto is "Keeping it Country."
We have two school districts serving our schools: Lovejoy and McKinney.
For more on Fairview, visit the city's website!