Tiger-Rock Martial Arts is offering our McKinney TX TaeKwonDo classes to students of all ages. We have been teaching students in McKinney for over a decade now. Master Thibodeaux and Vidal each are certified instructors with 4th dan black belts. Additionally, we are excited to pass down the discipline that comes from practicing martial arts.

History and Practice of Taekwondo
Master Aaron's dojo primarily teaches Taekwondo, a Korean martial art. It is a relatively new fighting style. The word itself roughly translates to "the Way (Do) of the Foot (Tae) and the Fist (Kwon)."
It is both an art and science of self-defense and a competitive sport. It distinguishes itself among different martial arts by emphasizing head-height kicks, sidekicks, spinning kicks, and strikes.
Taekwondo developed in post-War Korea as a sort of combination of other traditions and fighting styles. During the Japanese occupation of World War II, many dojos had to practice underground.
After the end of the war, schools could practice in the open once again. Taekwondo would form as older Chinese and Korean traditions of Taekkyon, Subak, Gwonbeop, and the Okinawan Karate were practiced together.
Not only is Taekwondo a martial art, but it is an active sport. Furthermore, it is the national sport of North and South Korea. Over 70 million people worldwide practice it. And as of 2000, Taekwondo became an Olympic event.
The main governing body of Taekwondo is the World Taekwondo Federation, and its capital is Kukkiwon. Both World TaeKwonDo and the International Taekwon-Do Federation organize major tournaments themselves. Tiger-Rock's McKinney Taekwondo also holds and participates in these tournaments.
Taekwondo has five tenets that we ask all our adherents to follow: courtesy, integrity, perseverance, self-control, and indomitable spirit. We also believe that by practicing Taekwondo, you will acquire these traits. Taekwondo also requires that we never misuse it outside of self-defense and that we respect our seniors.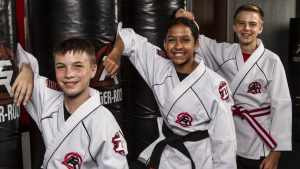 The goals of your practice is to be champions of freedom and justice and build a more peaceful world. World Taekwondo has extended its philosophy to the old blossoming knights' ideals of trustworthiness, loyalty, filial duty, valor, and justice.
Our Kid and Teen Classes
We have three separate martial arts classes for kids of all ages. We design each with their skills in mind.
This teaching style also means they can begin their Taekwondo education at a young age and continue on. All the while, they will learn and do exercises that are age-appropriate and continue to be challenging.
At Tiger-Rock's McKinney TX TaeKwonDo school, our students from ages four to five, we call Tiger Cubs. This program consists of our early childhood development curriculum.
We teach coordination, balance, and symmetrical movements. Kids can learn forms through repetitive movements, building the foundation for fine motor skills. These classes also teach valuable lessons at this age: paying attention, following instructions from your teacher, and respecting your seniors.
Children from ages six to eleven join our Juniors. This elementary school program teaches kids strikes and kicks. We also get the chance to bring up more serious topics like anti-bullying techniques and stranger awareness.
Through our knowledge and techniques, our students become equipped to deal with dangerous situations.  On top of this, it is a great after-school workout.
For teens, ages twelve to fifteen, we can start working on more intense workouts and defensive techniques. At this point, teens can take on more responsibility than ever before.
They are now learning more advanced techniques. Plus, it makes the best extracurricular activity. It teaches perseverance and good citizenship.
Tiger-Rock combines the Korean tradition of Taekwondo with the latest developments in physical fitness. Furthermore, it makes for an all-around total body workout take keeps you sharp and in peak health.
We teach you how to use your whole body with striking, kicking, and agility drills. Taekwondo in McKinney winds up providing an alternative to the gym. Our after-work classes function as the perfect calorie-burning and heart-pounding cardio workout.
The Many Benefits to Taekwondo
McKinney TX TaeKwonDo makes up a full-body workout, touching on all components of physical fitness. In addition, we work on flexibility and range of motion.
Our agility and striking drills will build your cardio health and physical endurance. And our strength and conditioning workouts will develop your muscular fitness.
Taekwondo improves the mind as well. It reduces stress, improves sleep, and gives one a more excellent sharpness of mind. Practicing teaches focus, and focus becomes easier once out of the dojo too. And you gain confidence and comfort and practice with achievement.
Self-Defense
The self-defense aspect of our McKinney TaeKwonDo classes is an important one. Bullying can be a constant source of anxiety.  Additionally, it can happen to anyone and anywhere.
It can be a legitimate trauma for individuals it happens to. It chips away at anyone's self-confidence or sense of self-worth. But with proper techniques, it can often be avoided.
Because Taekwondo is about self-defense and self-restraint, not violence, avoidance is the first step. Furthermore, the key facets of our anti-bullying education include awareness, communication, and self-defense.
For instance, correct tone, stances, and diction convey confidence, which will avoid escalating a potentially dangerous situation. And while they avoid all altercations, if your child finds themselves in trouble, they have the tools to defend themselves with.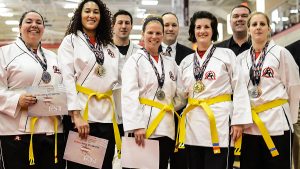 Competition and Cooperation
Whether it is an after-school sport or for fun, Taekwondo makes a great competitive sport. Our classes make for great training for tournaments.
And we hold our own competitions as well. We have an active competitive cycle, holding three yearly tournaments.
Competitors come to our regional, state, and national competitions in the fall, spring, and summer.
Besides, our classes themselves breed a competitive and cooperative spirit. Our students switch off, setting up drills for one another and performing alongside one another. Together, they drive each other to become better than they were yesterday.
McKinney TX TaeKwonDo
As you can see, there are many benefits to practicing Taekwondo, from any age. If you understand how Tiger-Rock's martial arts training can help you, contact us today.
For Tiger-Rock Martial Art's McKinney TX TaeKwonDo lessons, call us at (214) 585-0555 or email Master Thibodeaux through david@trmamckinney.com.
McKinney Texas Fun Facts
Our namesake is Collin McKinney, one of the signers of the Texas Declaration of Independence.
We are located thirty miles north of downtown Dallas.
In 2014, Money Magazine ranked us as the #1 Best Place to live in America.
For more on McKinney, visit the city's website!