If you've been looking for Stonebridge TX Karate Near Me, stop searching and contact the team at Tiger-Rock. Our certified martial artists have years of experience under their belts and are passionate about helping people achieve their goals. No matter your skill level, everyone is welcome at the Tiger-Rock dojo.
What's more, unlike other martial arts schools, we cater to men, women, and children. So whether you're looking for karate training for yourself or your child, you'll find precisely what you need at Tiger-Rock.
Tiger-Rock Martial Arts was not always the franchise it is today. Almost 30 years ago, we started with a singular dojo. Now, we have more than 100 locations throughout the nation. If you're looking to enroll in our McKinney, TX dojo, contact our team today!
Stonebridge TX Karate Near Me
Our certified team at Tiger-Rock is ready and waiting to help you on your martial arts journey. Karate, Tae Kwon Do, and Jui-Jitsu all over incredible benefits. When it comes to physical fitness, martial arts is a great way to improve your strength, stamina, and flexibility, just to name a few.
The kicks and strikes we teach in our programs allow you to strengthen these skills along with your balance and coordination. Of course, there are more than just physical benefits to these skills. Martial arts can also help strengthen your mind. If focus and self-discipline are two things you struggle with, our classes are here to help.
We will highlight more benefits of enrolling in karate classes later in this article. Additionally, if you'd like more information about our programs, feel free to reach out to our team.
We have designed four TaeKwonDo classes specifically designed for their age group. It is important that we learn next to our peers. This way, no one gets bored, keep up with the material, and stay engaged. And we teach material that is most suitable for each student.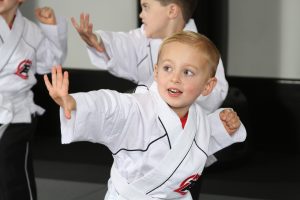 Tiger-Cubs
Our youngest group is our Tiger-Cubs. Those from ages four to six-year-old learn skills pertinent to early childhood development: balance, coordination, and symmetric movement. Through repetition of our exercises, Tiger-Cubs master fine motor skills, and their Karate forms.
Additionally, their TaeKwonDo lessons give them more time to have a lot of fun with their friends and learn socialization skills. Together, they learn good sportsmanship. And they learn valuable lessons about respecting their seniors, following instructions, and paying attention. Their half-hour karate lessons can be some of the most fun they have all week.
Juniors
Our elementary school-age children, from ages six to eleven, make up our Juniors class. These kids are learning Karate at probably one of the best times to start. At this point, they enjoy martial arts more than anyone. And we can teach them things like striking and kicking. They can get down these skills and forms with more precision. And if they start as Tiger-Cubs, we can continue their training.
Plus, at this point, we can bring up more serious topics. Bullying is a serious issue, and we need to treat it as such. But, by teaching awareness, communication, and self-defense, we can leave our students better prepared for the outside world.
Teens
On the other hand, as our kids get to twelve years old and move on to fifteen, they learn in our class geared towards Teens. Here, we can teach advanced defensive techniques and forms. Our students can take moving up the ranks seriously. And they can take on a greater level of autonomy in their training.
Stonebridge TX Karate near me will work up as much of a sweat as any other after-school sport. It keeps all of us in top physical shape. In our classes, our students develop leadership skills and ideals of good citizenship. They work together and motivate one another to be the best they can be.
We have classes in the evening, perfect for after work. A mixture of Korean TaeKwonDo and the latest developments in fitness training, it promises to get your heart racing and burn calories. It is a full-body workout. Our drills are characterized by an emphasis on speed and agility, training your whole body to move in tandem.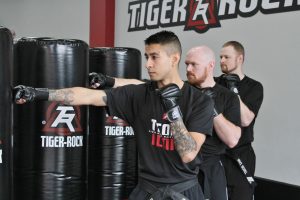 The Many Benefits Behind Karate
The most immediate advantage that anyone could come up with for joining a Stonebridge TX Karate near me class is the exercise. It truly does take care of all components of your physical health: endurance, strength, cardio, flexibility, and body composition.
Your agility drills push your endurance and keep your heart healthy, and our stretches beforehand flex your limbs. Meanwhile, our strength and conditioning routine takes care of your muscles.
But practicing Karate and TaeKwonDo also protects and strengthens your mental health. You will notice a sharpening of your focus, both in and out of the dojo. Plus, working out like this improves sleep and reduces strength. Practicing builds confidence, self-esteem, self-discipline, and self-control. Karate promises better overall mental fortitude.
Competition and Cooperation
We mentioned that TaeKwonDo has competitions and is in the Olympics. Well, as of the 2020 Tokyo Olympics, Karate joined TaeKwonDo. The World Karate Federation, the governing body, too, manages the sports competitions and regulations. And our Stonebridge TX Karate near me classes are a perfect way to prepare for your own place in a tournament.
Tiger-Rock puts on TaeKwonDo competitions ourselves. We have regional, state, and national tournaments in the fall, spring, and summer to participate in.

Stonebridge TX Karate Near Me
As you can see, Karate lessons can do a lot for anyone from any age, from imparting character, providing competition, or building a physique. The instructors here work hard to pass down as much of this as possible to each and every one of our students.
So, if you see how Tiger-Rock's martial arts classes can benefit your whole person or your family, then contact us today. Call us at (214) 585-0555 for Stonebridge TX Karate near me.
Stonebridge Texas Fun Facts:
We include over 70 distinctive villages.
Stonebridge covers over 5,000 acres.
We are 35 miles northeast of Dallas.
To learn more about Stonebridge, please visit.